How two women brought change to the Intellectual Disabilities System.
It started with two women and a vision. A vision that everyone belongs in the community, everyone deserves the right to a happy and meaningful life, and everyone's voice should be heard. Audrey Coccia and Maureen Devaney created Vision For EQuality (VFE) in 1996 to change the lack of understanding and support people with disabilities and their families experienced in the community. What we take for granted; the sense of belonging and acceptance for who we are; being treated with respect; the opportunity to express our own spirituality; have the power, authority and resources to control our own destiny; and having options and security in our lives are not the norm for people with disabilities. Audrey Coccia and Maureen Devaney vowed to change that reality. Vision For Equality was one of the first agencies in the nation to develop programs that enabled people with disabilities and their families to directly monitor services provided to the disabilities community.
In the over 20 years since Vision For EQuality was founded, we have had many success stories. We have worked tirelessly every day to look for avenues of support for people with autism and disabilities, all of which need support through no fault of their own. Unfortunately, our struggle is far from over. Today over 16,000 people with autism, and other disabilities in Pennsylvania receive no help or support which would allow them to live a decent life. Unless we provide alternative solutions, many of these people will have no option but to be separated from their families and friends, uprooted from their community, and moved to an institution miles away from home. Vision For EQuality has worked for, and will continue to work for solutions until we have created One Community For All.
View below to learn more about our history, dedicated people and continued mission.
Our History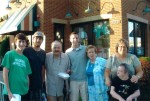 Vision for Equality was founded in 1996 out of a deep personal desire to serve people with disabilities and their families by two mothers from Philadelphia: Dee Coccia and Maureen Devaney. These ladies and their husbands were balancing the many joys, adventures and blessings of raising families, Dee with her husband Vince and daughters Denise and Gina; Maureen and her husband Tom with their children Tom, Colleen and Jim. Their daughters Gina and Colleen were born with developmental disabilities and Dee and Maureen lovingly juggled multiple roles as wives, parents, professionals and community members.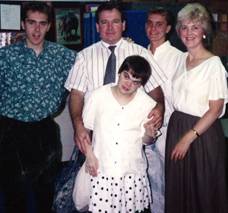 As their daughters grew into adulthood, the families wanted them to become independent in order for them to live the lives they chose as active members of their communities. Yet the systems and supports in place at the time did not always support and encourage this independent person and family-centered life they dreamed about for their daughters, their families and others.
These ladies soon learned that directly becoming involved in active discussion about changing the system of support, government and regulations was the only way to achieve their goals. The paths they took would be an uncharted journey every step of the way. However, they, along with their daughters and family, needed to be in the forefront of charting their own path of how they should and could live their lives, while helping others along the way. Always forging forward with sheer determination and the knowledge that all people should live, work and enjoy an Everyday Life in their homes, neighborhoods and communities.
Dee and Maureen's personal experiences laid the groundwork and seeds that blossomed into a dream wedded with a deep desire to assist all people with disabilities and their families to become central in the universe that encompasses their lives, making them the driving force that influences the outcomes in their own journey. Up until today, their work with a dedicated staff of 51 and 31 volunteers, continues to be their passion and a labor of love.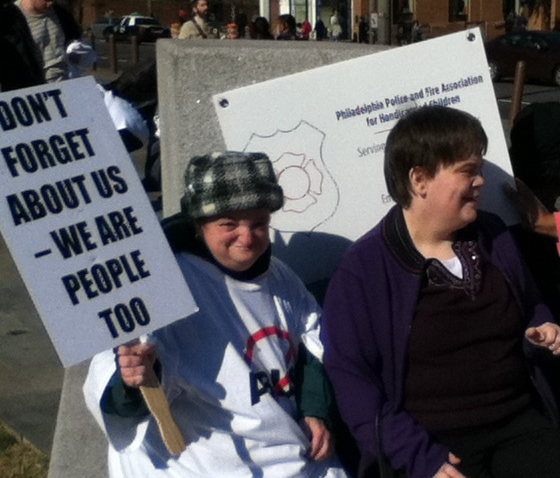 Today, both Gina and Colleen, are doing great advocating for themselves and others, living happy and productive lives in their neighborhoods and communities. Dee and Maureen's families remain their steadfast support allowing them the freedom to continue their work. They not only help their own daughters but continue their deep involvement by assisting thousands of others obtain supports and services needed to live the life they choose with dignity and respect.
JOIN OUR TEAM
No current job opportunities. Please check back later.
Vision for EQuality, Inc. is an equal opportunity employer and encourages applications from qualified applicants including minorities, persons with disabilities, and persons whose family members have disabilities. Vision for EQuality, Inc. is committed to providing reasonable accommodations for persons with disabilities that enable them to perform the essential functions of their position.