What People Are Saying About Us
We're proud of the work that we do to enable and empower families and individuals. Take a look at the success stories, videos and testimonials below.
TESTIMONIALS
Hello Maureen and Dee, You guys are the best! Thank you so much for helping Margie and me attend the Everyday Lives Conference.
Thank you for giving us the conference of HIV Prevention Training. It was an amazing opportunity to learn about a subject not a lot of agencies are able to teach. It's an honor to congratulate your agency for the high level of organization and knowledge in this area.
Thank you for all you are doing! God bless, God bless, God bless!
This was a great event and I'd like to do it again. I was surprised at how many talked about their children who have autism. YOU WERE GREAT! Thank you so much!
Words cannot express my thankfulness to your organization. You are doing wonderful things and being a voice for my son and others that have difficulty advocating for themselves.
I love this site! You do so much good for the disabled and you give very valuable information to people who need it. Keep up the good work!
LETTERS
I just wanted to send a message to you in behalf of our son, my husband, and myself to thank you profusely for including us in your agenda in the meeting today with Governor Wolf. It meant so much to have our story heard, and feel like we might just be a tiny bit closer to getting the services my son so desperately needs and desires. The meeting was very informative and extremely well done.
We would love to assist in the ongoing journey of getting the services for all the children that need it on the waiting list. Please let us know if there is any way we can be of service to your organization, we would all be happy to pitch in any way you might need. We also were wondering if there are particular representatives to contact for advocacy in Pennsylvania, as Governor Wolf mentioned in the meeting. Thank you again for everything you do for all the kids on the waiting list!
Most Sincerely, Lisa, Dan and Eric Heppard
Vision for Equality's Advocacy Department makes a difference every day, one life at a time. A 20-year old woman with an intellectual disability spent the past 3 years of her life in a dark room, while being abused by her own grandfather. Nothing was done until Vision for Equality got involved. A few weeks ago, they were finally able to remove her from a dangerous and destructive situation together with local law enforcement and her perpetrator was taken to jail. Today, the woman lives in a safe home and is receiving the support she needs. For 17 years, VFE has been helping the most vulnerable people in society and giving them a chance to fight back."
The below is one of the finest pieces of advocacy in difficult times that I've ever seen. Keep up the good work!!!
"I'd like to share with you my experience on a visit I made recently to Vision for Equality, a social service agency in Philadelphia. I met with families who had adult sons and daughters with severe intellectual disabilities. Because of their conditions, they face challenging lives. And it became even more challenging because they "aged-out" of the services the state provides for children.
They were put on a waiting list that delays their access to the help that would allow them to work, to live at home, and enjoy a full measure of life's experiences. But these families would not let these disabilities and the waiting list stand in the way of their dreams."
Former Governor Tom Corbett, Pennsylvania
Dear Deputy Secretary Lokuta,
I am writing to you today to thank ODP for funding the Training Partnership to assist families in the Commonwealth. Our area, Hazleton, falls under the territory for Vision for Equality and we have been fortunate to work with them on numerous occasions.
I am writing this letter on both a personal and professional level. Professionally, I work as the Marketing Director/Project Director for the Anthracite Region Center for Independent Living (ARCIL) in Hazleton. In this capacity, I have arranged several trainings regionally that have benefitted our consumers and their families. One presentation was offered by SAU1 and well received in our school district, one was offered by Visions (presented by Lisa Tesler) and one by the Latino Project at Visions. All were wonderful – professional but friendly – and all received the highest praise.
We were especially grateful for the efforts of the Latino Project at our last presentation! Ana Pacheco was gracious and helpful to everyone who attended. This was a difficult presentation because we had non-English speaking family members in attendance who truly believed that waiver was a negative thing and wanted to turn down the waiver that their child had been offered by Luzerne Wyoming MH/DS (no fault of the MH/DS office! Rumors run wild about waivers for some reason!) Ana handled their questions and comments with knowledge and skill.
Future presentations here in Luzerne County are already in the planning stages on a number of topics and we are grateful to have the help and cooperation of the folks at Vision behind us. We are co-hosting with the Hazleton Areas School District on one presentation and the Luzerne-Wyoming Counties Training Council on Quality for two others. We are very excited to have the added benefit of Ana and Emilio working with us for some of those events to reach our Latino population who would not otherwise participate.
Personally, I am the mother of a very involved young man (William J. Francis, III) who receives waiver services in Luzerne County. Since the disbanding of the PAC, information is something I always feel the lack of up here in Northeast PA. The folks at Vision and the Training Partnership help to relieve that feeling of isolation with their insight and resources.
Again, my thanks to ODP for funding such an essential entity and promoting the full spectrum of presentation experiences by including self-advocate training and Spanish language trainings.
Sincerely, Diana M-S
– Dear Vision for Equality,
I wanted to take this opportunity to let you know how grateful my mother and I are for all the help and support we received from your agency. My sister who is 49 years old and severely mentally disabled, recently moved into an ICF in West Philadelphia. Our advocate, Emilio Pacheco, was always there for us. He took the time to explain the overwhelming and confusing process in a way we could understand. Emilio attended countless meetings where he not only provided support, but asked questions we would never have thought to ask. During times when the process was not going smoothly, Emilio made sure we knew what our options were and advised us with my sister's best interest in mind.
There are times in your life when someone comes along who you are truly grateful to know because they have made such a difference. For us this person is Emilio. The support and guidance that he has provided through your agency has meant more than words can ever express.
Sincerely, Amy
STORIES
Brian's Story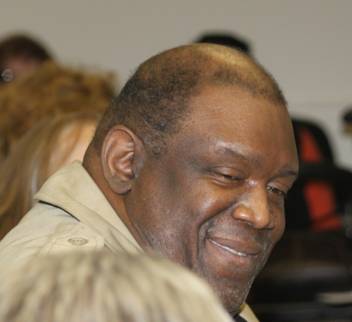 Brian is 54 years old and has always lived with his mom. His mother's care is all he knows and all he has ever experienced. Brian is fully verbal and for the most part can take care of himself despite his intellectual disability. Brian and his mother did not receive any support from the city. No one stopped by the house to check on him and his elderly mother.
Living in the same house his whole life he knows the neighbors and he knows where the neighboring funeral home is. Brian knows that when someone dies you need to go to a funeral home. What Brian does not know is to call 911 when someone falls, or how to arrange a funeral or how much it costs.
We received the following information from a medical examiner.
On October 6th, 2011 Brian's elderly mother fell down the stairs. She landed at the end of the stairs and could not move. Brian did what his mother has done for him many times before; he made her food and tried to feed her for days. It's estimated his mother passed away on October 9th still at the bottom of the stairs. Brian sat with his deceased mother at the bottom of the stairs for 8 days. On October 14th Brian walked to the local Funeral Home one block from his house to inform the proprietor his mother died. The undertaker contacted the medical examiner's office. The forensics unit carried the decomposed body of Brian's mother from the home.
There is no family involvement whatsoever. Brian doesn't have any contact information to any relatives. He said his mother has a phonebook somewhere in the house, but he is not sure where. The only individuals who are aware of her passing are the police, medical examiners and a few neighbors. This left Brian alone, without help or services and support.
Debbie's Story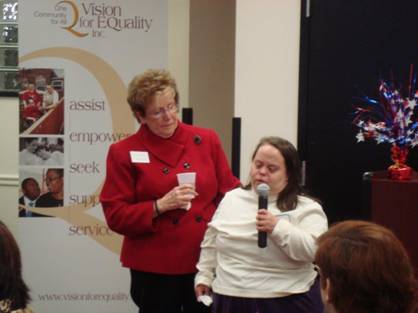 Debbie was born with Downs Syndrome to loving parents who not only accepted and understood her disability, but also extended it by adopting another disabled child, Susan. Susan, just like Debbie had Downs Syndrome, and in addition, a heart condition that required care.
Following the heartbreaking passing of both of Debbie and Susan's parents, their new caretaker was Debbie's birth sister, Terri, her husband Ed, and their children. Living in their care Debbie and Susan were introduced to a new life that no one ever should ever experience. In the home of their sister, Debbie and Susan were locked in a basement while Terri and Ed were often high on drugs. The sisters lived in fear of their new caretakers, terrified of Ed's gun and temper.
While locked in the basement, they were surrounded by dirty clothes and trash, and slept on hospital beds. They were given sparse amounts of food and did not receive any of the medication or professional care they required. Susan suffered significantly due to her heart condition, requiring oxygen she would never receive. She wasn't bathed, and couldn't feed herself. These responsibilities fell to Debbie, who also needed help and care. It was a sister's love that allowed Debbie to care for Susan, sharing what little food she had, exhausting all her energy to clean her, often injuring herself struggling to get to the basement door.
Her young niece, seeing the pain they endured, offered to remove them from the basement, but was told "no" by her parents, removing them would mean the end of the social security checks they received in Debbie's and Susan's name. On November 14, Debbie faced her next trial, the passing of her sister Susan. In the dark, dirty basement of their sister, Susan passed away with Debbie by her side. For three weeks the sisters were together side by side, one dead and the other just barely alive. When Terri and Ed lost their house due to their drug abuse causing financial problems it was the first time the serious issues came out in the open. For over a year Terri and her husband used Susan's and Debbie's social security checks to feed their drug abuse. People in Debbie's and Susan's surrounding knew the situation was bad, but it was little they could do with no legal backing. On Christmas, when the house was entered for repossession and Terri, her husband and their children were long gone, Susan finally after three weeks, received a proper burial.
It is now seven years later, and Debbie is able to share her story with the world, but it is not without regret that we listen. She is a strong incredible woman, and after many, many years of support she has moved on. She now is happily living in a group home, once again surrounded by people who loves and cares about her.
Derek's Story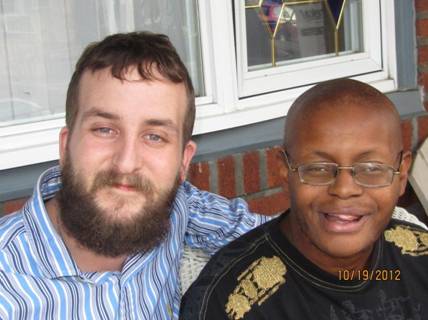 Thirty-seven year old Derek and his mother were like two peas in a pod. If you saw one, you saw the other. Derek cannot cook, grocery shop, get to his doctor's appointments, or clean without help, and he needs constant reminders to take his medications. Derek can be very naïve, which makes it easy for people to take advantage of him. Several times he gave away his entire paycheck leaving him with nothing to eat.
When Derek's mother passed away on May 11th, 2012, Derek's life took a chaotic turn. Sadly, Derek's extended family was never involved in his life and after his mother passed this did not change. A few months after he lost his mother, Derek developed a malignant tumor lump along his jawline. Derek needed immediate surgery.
Even though Derek had a job and his employer provided great health insurance and even though Derek needed immediate surgery, he was met with another stumbling block – the doctors determined that Derek could not grasp the concept of the procedure and was not competent to sign the release forms.
The cyst continued to grow and became life threatening. Vision for Equality was called to help and immediately arranged for Derek to be taken to the hospital. The hospital insisted that a family member or guardian sign consent forms for the surgery and subsequent treatment. Since Derek's family was not involved, Vision for Equality assumed temporary guardianship for medical decisions only so that Derek could get the treatment he needed without further delay. Derek had the tumor removed and received chemotherapy. Vision for Equality arranged for Derek to receive the daily support he needed to recover and move forward.
The tragic series of events that occurred in Derek's life over the past few months could not have been avoided completely, but could have been handled much differently. Thanks to the help from Vision for Equality, Derek is now facing a brighter future. Derek is now receiving the support he deserves and is well on his way to good health and resuming his productive role in the workforce and in the community.
Steven's Story

Steven is a 26 year old man who needs total care. He uses a wheelchair, is non-verbal, and has other significant physical disabilities. Approximately, two years ago, Steven's nursing was increased to 24/7. This was necessary for his health and safety. He requires 24 hour awake care resulting from seizures, aspiration, medication administration and positioning. He also now needs CPAP and oxygen to sleep. It is clear that Theresa also needs to sleep and work and cannot provide overnight support. Yet, 24 hour nursing care is "pending" until the state decides if it is necessary.
When Theresa suggested that she needed to continue the 24/7 nursing, it was recommended to her that she choose a $400,000 Residential Placement. Theresa maintains a beautiful, happy home for her sons and wants him at home where she can love and care for him.
Steve was denied 24/7 nursing care. This decision has been appealed.
Steven's mother maintains employment to support Steven and her other young son. The anxiety of waiting for a decision, which will drastically change her life, is very stressful. If the 24/7 nursing care is not approved his mom, a single care giver she will no longer be able to work the necessary hours to provide financially for her family.