Comprehensive programs designed to protect the rights of individuals with intellectual disabilities and autism.
Our commitment to community runs deep. Vision for Equality offers the caring tools and services needed to enhance and enable the well-being of all individuals.
ADVOCACY
Vision for Equality's Advocacy Department believes that all people have the fundamental moral, civil, and constitutional right to live, learn, work, play, and worship in safe and healthy communities of their choosing. We believe advocacy is vital to improving and sustaining the quality of life for all persons with autism and intellectual disabilities. The Department's principal goal is to provide effective advocacy for people with disabilities and their families. Vision's advocates work tirelessly to forward an agenda that targets quality outcomes in people's lives and advances empowerment through self- determination and choice. Vision for Equality's Advocacy Department maintains an independent critical viewpoint focused on the rights and well-being of the individual, unabridged by outside influences. We act as collaborators, problem solvers, facilitators, negotiators, and mediators always keeping in mind the best interests of the individual for whom we are advocating.
We provide…
Advocacy – Experienced and trained advocates help guide and navigate individuals and families through the complex Intellectual Disability and Autism Systems.
Training – Advocates of Vision for Equality hold trainings and conferences throughout the year to increase the people's knowledge and skills so they can advocate as well.
Resources – Vision for Equality's Advocacy Department has extensive networks and information to share with individuals and families.
Technical Assistance – The Advocacy Department handles hundreds of calls a month concerning issues such as guardianship, abuse, housing, rights, education, and referrals.
We are Change Agents – We work for substantive change to enhance people's quality of life. Our advocates bridge the gap bringing the people's voices and needs to policy makers.
We are Certified Investigators – All Vision for Equality investigators are certified and offer independent and unbiased results when abuse or neglect are suspected.
For more information, please contact Maria Melendez:
Phone: 267-765-0309 E-mail: mmelendez@visionforequality.org
Important Advocacy News
Report Finds Rampant Abuse and a Flawed Response System
The Disability and Abuse Project today released a report that gives low grades to state and local agencies for failing to respond adequately to widespread abuse of children and adults with disabilities.
The Report — "Abuse of People with Disabilities: Victims and Their Families Speak Out" — analyzes the results of what may be the largest survey of its kind in the nation. More than 7,200 people took the survey which inquired into the experiences of people with disabilities as victims of abuse and bullying. Family members, advocates, service providers and various types of professionals also responded. Click here to read more.
CONSUMER & FAMILY SATISFACTION TEAM (CFST)
Embreeville Settlement Agreement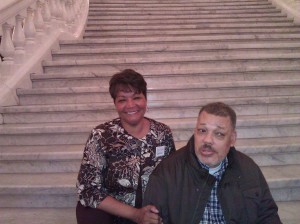 The Embreeville Settlement Agreement is a federal court agreement that mandated the closing of Embreeville, a major state center. This landmark decision called for teams of people with disabilities and family members to monitor services for the people who were able to make the transition from the state center to the community.Today we continue to meet with and visit with class members along with their community match to gain insight into their programs and to see if their needs are being met and to insure a level of quality of services.
Our emphasis is on establishing relationships with people over time and listening to their choices.
The Embreeville Class Members and their allies, through the teams, have given service providers valuable information and a clearer understanding of what they want and need from the service system and to check the suitability of services.
If you are interested in learning more about our program or volunteering, please call 215.923.3349 x115.
INDEPENDENT MONITORING FOR QUALITY (IM4Q)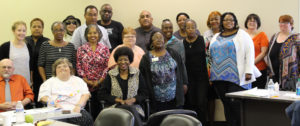 IM4Q effectively gives a "voice" to the persons with disabilities regarding their perception of service delivery and their satisfaction. It has also served as a valuable tool to learn more about what people want from system services and has created effective means for service providers and Support Coordinators to receive this feedback.
There are 26 IM4Q entities in the state that survey people in 67 counties. This allows everyone to have the opportunity to participate in the interview process.
Each year our program visits 739 people who have been randomly selected by the Office of Developmental Programs to assess levels of satisfaction, choice, and the quality of services and supports received in the work place and at home.
Surveys used are:
Essential Data Elements Survey
Identifies the signs of quality in a person's life with regard to dignity, respect, control, choice, rights, inclusion, relationships, and satisfaction.
Family/Friend/Guardian Survey
If the person agrees, we call their family to ask how happy they are with their relative's services.
Transition Pilot Survey
Data is gathered about how the transition process is conducted in the school system and if it is preparing youth (14 – 22) for employment and life after high school.
IM4Q Links
INVESTIGATION SERVICES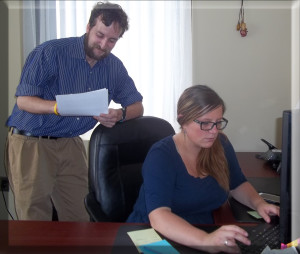 Vision for EQuality, Inc. has two certified investigators who are qualified disability specialists and family members. For a minimal fee our seasoned investigators offer the option for an independent approach to investigations for serious incidents such as abuse, neglect, and exploitation. This service can be obtained by or for families, self-advocates and providers of service to give the assurance of conflict free results.
Please contact:
Maria Melendez, Intake Coordinator
Advocacy Department
215-923-3349 ext 116
For further information
LATINO SERVICES
Servicios Para La Comunidad Hispana
Latino Services of Vision for EQuality, Inc. advances information, advocacy, training and resources to ensure that the Hispanic community has the knowledge and tools needed to make well-informed choices to improve their quality of life across Pennsylvania. While VFE has been a leader in providing accurate and valuable information to individuals with disabilities and their families for many years, Latino Services works to provide the same access to training and technical assistance for the Spanish speaking community. This work has enabled many families with limited English proficiency to enhance their abilities and close the cultural gap so that they have a better opportunity to connect with needed programs, services, and providers.
Watch a short video clip from Amarily Guance, and the impact the Latino Project had on her and her son Brian. Amarily Guance and Dee Coccia – a testimony
Visit our website: Latinos abriendo caminos
Click here for a list of Latino Service Organizations in Philadelphia
PA FAMILY NETWORK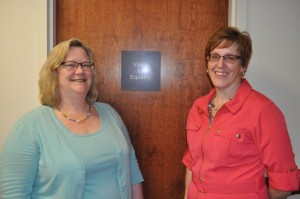 The Office of Developmental Programs is pleased to announce our acceptance into the national Community of Practice: Supporting Families throughout the Lifespan.
Pennsylvania ODP is joining with 15 other states in an initiative to transform state policies and practices to better support families of individuals with intellectual disability and/or autism. The goal of the collaboration is to support families in ways that maximize their capacity to facilitate the achievement of self-determination, integration and inclusion in all facets of community life for their family members.
The Community of Practice in Pennsylvania will be carried out through six to eight designated regional collaboratives. Later this spring, ODP will introduce the concepts to Administrative Entities and then follow with an invitation to apply to join the statewide initiative. The ODP will be looking for Administrative Entities that are interested in developing a collaborative with individuals, families, supports coordinators, providers, and a wide range of community organizations in their communities to build supports for families.
Information about the national Community of Practice can be found at www.supportstofamilies.org.
As Pennsylvania prepares to launch this initiative, many exciting plans are coming together across the systems that support people with intellectual disability and/or autism. A major element of the Community of Practice involves supporting families' needs for information at all stages of life relating to their family members' disability, planning for a full and meaningful life, and an understanding of services to attain and support that vision. In addition, the ability to connect with other families is vital for many reasons and through all of life's transitions and stages. The newly-created PA Family Network will serve these two critical roles in Pennsylvania's Community of Practice. Under the leadership of Vision for Equality, the PA Family Network will provide family workshops and networking opportunities throughout the Commonwealth, led by trained Family Advisors, all of whom have family members with disabilities. Watch for information from the PA Family Network, contact by email at PAFamilyNetwork@visionforequality.org, or call 1-844-PAFamily (1-844-723-2645).
For more information on Pennsylvania's Community of Practice, contact Nancy Richey, Family Policy Specialist, c-nrichey@pa.gov.
The mission of the Office of Developmental Programs is to support Pennsylvanians with developmental disabilities to achieve greater independence, choice and opportunity in their lives.
Community of Practice: Supporting Families Throughout the Lifespan – NASDDDS
The National Association of State Directors of Developmental Disabilities Services (NASDDDS) is the professional organization for the chief administrator in each state responsible for the operation of Intellectual Disabilities and Developmental Disabilities
http://www.nasddds.org/projects/community-of-practice-supporting-families-throughout-the-lifespan/
PA WAITING LIST CAMPAIGN (PAWL)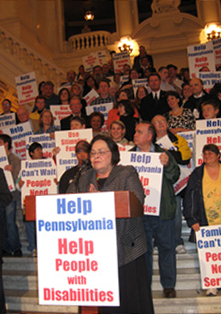 CLICK HERE FOR OUR WEBSITE
OUR MISSION – To end devastating Waiting Lists for community services and supports for people with intellectual disabilities and their families.
What is the Campaign?
In September 1998, the Pennsylvania Waiting List Campaign was established in response to an outcry of people and families who were in crisis and without services across the Commonwealth. There were long Waiting Lists for people seeking services from the Office of Developmental Programs and there was not enough funding to support people's needs. Through the Campaign's continuous advocacy over the years we have brought the issue to the forefront and hundreds of thousands of people have received services. However, today, 14,000 people are still waiting throughout the state with 4,000 of those in dire emergency situations with nowhere to turn for support.
We work with the Office of Developmental Programs, The Governor's office, Legislators, Providers and the general public to make this issue well known to seek solutions for those in crisis in every community throughout the Commonwealth.
Many of those waiting have parents in their 70's, 80's and 90's who are lovingly caregiving around the clock for their son or daughter. They have no relief from their life long caregiving responsibilities and many have health issues themselves that prevent them from continuing the loving care they have provided all of their lives.
On the average, 700 young adults graduate from High School in Pennsylvania each June who are in need of support from the PA Office of Developmental Programs. Without services or supports they go on waiting lists for sometimes years. Each year, we work diligently to secure supports and services for the graduates so that they, like every other young adult, can have a full life of hope and promise in their homes and communities.
PHILADELPHIA PARENT SUPPORT GROUP (PPSG)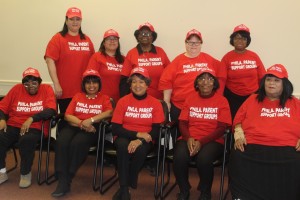 The Philadelphia Parent Support Groups are grassroots groups organized by families for families of people receiving or seeking Intellectual disability Services located in neighborhoods throughout the City of Philadelphia. Members share and network with one another to become better informed about resources available in the city, their community and throughout the state. The Philadelphia Parent Support Groups Planning Committee Representatives from each area of the city meet ten months of the year to discuss and present systems concerns on behalf of the families in their local group to learn about current issues and seek resolution. They also meet with city, state and government officials to bring their concerns to their attention. The outcome is to educate and support families through their lifetime to advocate on behalf of their sons and daughters so they can receive the services they need to live a full meaningful life in their communities.
If you are interested in joining a Parent Support group in the City of Philadelphia, Contact Barbara Nattile, Philadelphia Parent Support Groups Manager at 267-773-5288 or via email: bnattile@visionforequality.org